You are here
Five Women Judges Sworn to Office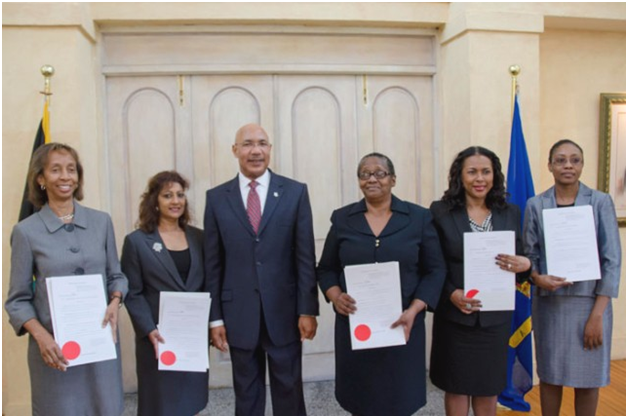 Governor-General, His Excellency the Most Hon. Sir Patrick Allen (third left) with: from left: Carol Lawrence Beswick and Ingrid Mangatal who will act as Judges of Appeal; Audre Lindo and Marcia Dunbar Green who will act as Puisine Judges of the Supreme Court; and Rosemarie Harris (right) who will act as Master-in-Chambers in the Supreme Court. The five judges were sworn on (April 14), to the Court of Appeal and the Supreme Court by Governor-General, his Excellency the Most Hon. Sir Patrick Allen at a ceremony held at King's House – JIS Photographer
Speaking at the swearing-in ceremony of five Judges at Kings House on April 14, 2014, the Hon. Mrs. Justice Zaila McCalla (Chief Justice) explained that in her capacity as head of the country's Judiciary, she cannot intervene on the adjudication of matters by Judges or Resident Magistrates.
Mrs. Justice McCalla indicated that it was important for her to highlight the role of the Chief Justice, as many Jamaicans and persons in media may be confused about this role, which she indicated has resulted in a general misconception about recent court matters.
While congratulating the bench of judges for being selected to pursue their new roles, she made special mention of the distinguished service given by Mrs. Justice Dunbar-Green, who was among the senior judicial officers being sworn-in.
In her congratulations to the judges, the Chief Justice urged them to remain true to the oaths they have taken in the execution of their duties, while being mindful of the misgivings the society has about the justice system.
The Judges sworn in by His Excellency the Hon. Sir Patrick Allen were, The Hon. Mrs. Justice Carol Lawrence Beswick, to act as Judge of Appeal; The Hon. Mrs. Justice Ingrid Mangatal, to act as Judge of Appeal; The Hon. Mrs. Justice Audre Lindo, to act as Puisne Judge, The Hon. Mrs. Justice Marcia Dunbar Green to act as Puisne Judge and Master Rosemarie Harris to act as Master in Chambers.
The Governor-General called on the Judges to do their very best in fulfilling their roles, in light of the challenging times under which all civil servants are asked to operate.
Responding on behalf of the appointees, Justice Beswick said the judges are grateful for the opportunity to serve their country and pledged their continued dedication and tireless effort in dispensing with justice for all citizens.
Note Briefly: Under common law precedents and the Constitution of Jamaica, the Judiciary is a separate and independent branch of government. The other branches are the Legislature (Parliament) and the Executive (The Cabinet). As a branch of government, the role of the Judiciary is not to make law, that is the responsibility of the Legislature (Parliament).
The Judiciary also does not enforce law; that is the responsibility of the executive branch (Cabinet). Rather, the Judiciary interprets law and applies it to the facts of each case which appears in the courts. The Judiciary is tasked with ensuring that there is fair and equitable treatment of all persons who appear before the courts.
The Chief Justice is the head of the Judiciary, and is appointed by the Governor General on the recommendation of the Prime Minister after consultation with the Leader of the Opposition. The Chief Justice's Chambers are located at the Supreme Court. He/she presides over cases in the Supreme Court and may sit in the Court of Appeal under certain circumstances.